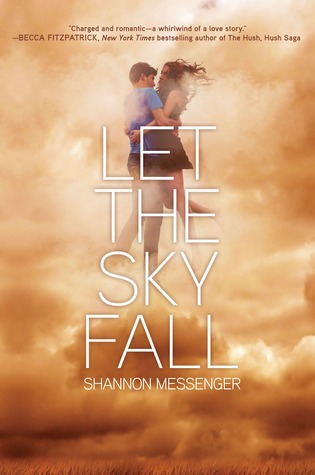 Book Title: Let the Sky Fall
Author:
Shannon Messenger
Genre(s): YA, Fantasy
Date published

:

March 5, 2013
Source: bought
Vane Weston should have died in the category-five tornado that killed his parents. Instead, he woke up in a pile of rubble with no memories of his past — except one: a beautiful, dark-haired girl standing in the winds. She swept through his dreams ever since, and he clings to the hope that she's real.

Audra is real, but she isn't human. She's a sylph, an air elemental who can walk on the wind, translate its alluring songs, even twist it into a weapon. She's also a guardian — Vane's guardian — and has sworn an oath to protect him at all costs.

When a hasty mistake reveals their location to the enemy who murdered both their families, Audra has just days to help Vane unlock his memories. And as the storm winds gather, Audra and Vane start to realize that the greatest danger might not be the warriors coming to destroy them, but the forbidden romance growing between them.
REVIEW
I had high expectations to this book due the hype it gets around the blogosphere not only that but also because of the sounds-so-cool-that-I-should-read-it synopsis. And that cover? GORGEOUS! I dislike the color orange but somehow the cover managed to pull it off! I'm glad that my expectations were fulfilled.
Looking for that cocky, quirky and sarcastic hero? Then
Vane Weston is your guy! He's your typical teenage guy with a twist. He's an air elemental (like Audra) but he didn't know until Audra showed herself. Vane's sarcastic yet sweet attitude is what I'm looking for a good POV. There were lots of laughs and smiles whenever I'm in his oh-so-wonderful view point.
Readers, particularly us gals, will find ourselves swooning over Vane's cocky and quirky comebacks and especially his "the moves" to Audra.
Vane Weston is my new book boyfriend! (insert dreamy eyes :)
Audra is a Sylph, someone who can control the wind or be like the wind, who's in a mission to protect Vane Weston. When the time has come that she needs to train Vane for him to be ready to fight The Stormers (those evil stab-worthy dudes)
she finally revealed herself to Vane. During their training together something sparked between them. I like Audra. She's fierce yet vulnerable at the same time. For ten years of protecting Vane, Audra has shouldered the guilt of killing Vane's parents, which isn't really her fault. Because of that guilt she tried to suppress her feelings toward Vane. I can't imagine myself feeling guilty for ten years! That would slowly deteriorate me! haha. But Somehow Audra manage to continue her duty to protect Vane despite the guilt she felt.
Let the Sky Fall has great world-building! The concept was vividly described and explained. The story-line's original and creative! And the romance? Oh, it's to die for! But somehow it was geared to develop the romance side instead of the action side. The fight between Vane and the Stormers ended abruptly which left me wanting more. I was expecting of a blood-shredding fight but got an easy fight instead.
Although I expected more of an action-packed story still I enjoyed every single moments that happened. It was a little bit slow because the entire story focused on their training except for the last part where they have fought the Stormers. But it never came to a point that I got bored.
Overall I am impressed with Let the Sky fall despite its drawbacks. I was devoured and captivated by the story! And you will too ;)
My Rating: 4/5 quills!